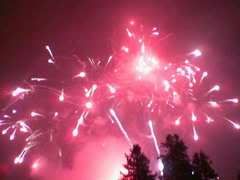 Mmmmmmmm I love fireworks.
Went to the Ally Pally fireworks on Saturday evening with Dan, Jude, Flan, Lucy, Suse, Stu, Charlotte and Steve. And about 74,000 other people too! They were fantastic again - over 30mins of HUGE fireworks, amazing colours, big bangs and some of it in time with the music, all from the top of a hill looking out over London.
I think we need to find a way to include fireworks in worship. They're just so big, so extravagant, so majestic and beautiful. For me they're a great way of expressing how amazing God is.