Last night, Dan and I headed off to the
Notting Hill Arts Club
where Classic FM were hosting another
Chiller Cabinet
club night.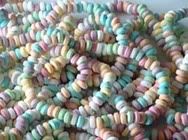 "Classic FM Club night" Sounds weird eh? Don't worry - it wasn't all Bach and Vivaldi - standard chilled out DJ stuff in a little basement club, cool video art projected onto one of the walls, penguins, seals and snowflakes projected just about everywhere else, free sweet necklaces, a free bingo card with the bingo numbers called by Mr Simon "voice of Classic FM's breakfast show" Bates.... all very cool.
If you know me, you'll know I really don't like clubbing at all but this one I could go to again. But why
did
we go last night...?
A while back I discovered this band called
Rothko
. I like the artist and was googling and found a band by the same name who turned out to be a bass guitar trio. I figured that Dan, being a bassist, would like them. Last night was their first London gig since then so we went to hear them. Their lineup has changed a bit since then - two bassists, a drummer and a guy with a synthesiser and some gadgety thing that Dan got a bit excited about.
I have to say, we were disappointed. They were very prog-rock in style and the lead bassist had about as much charisma as a paperclip. After each track, he mumbled a thank you at the mic and continued. At the end of the third track, he even said "don't worry, not long to go now", breaking stage-performance rule number 236b: "Never apologise" Technically they weren't great either.
I guess I've been a bit spoilt being married to a creative solo bassist, hearing not only his stuff, but his CD collection too and a few real life gigs. Jaco Pastorias,
Steve Lawson
, John Patitucci and Michael Manring are a hard act to follow.
Sorry Rothko but I think I'll just stick to the art.