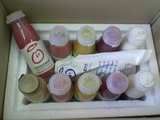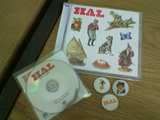 Look what arrived here yesterday! My prizes!
A selection of ten yummy smoothies from
Innocent
and an album, tour sampler and three crazy pin badges from
Hal
If you've never tried an Innocent drink, go and buy one now! And if you've never heard Hal, to quote my husband it is; "Light rock for the summer with a lot of 3-4/swing meters"