.... it's going to start 4 days of torrential rain.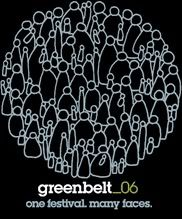 Yep, we're off to
Greenbelt
in the morning.
There are a
few
great
names
nestled in the
line-up
this year, alongside a few that
aren't so exciting
and one or two
notable ones missing this year too
.
On top of that, neither Andy Flannagan or Meeker are playing this year which leaves Dan slightly less busy over the weekend but also strips us of our usual camping and tea drinking buddies! Thankfully, we've been adopted by Kim, Steve, Stephen, Liz, Dave and Daniel instead. Nice.
I'm feeling more than a little bit nervous about playing with the
Festival Orchestra
this year. The bassoon part in the Kyrie of Mozart's Requiem is a bit tricky and I'm... err... a bit out of practice? OK. A LOT out of practice.
Anyway, apart from that, I'm looking forward to the weekend - will blog lots about it next week (because I've still got lots of school work to do and procrastination is my middle name)