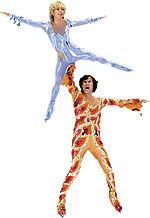 Will Ferrell and Jon Heder's usual standard of comic genius. Go see it!!
We laughed, cringed, chuckled and tried to remember lines to use in conversation later. It's just one of those films. Surprisingly it didn't make me want to skate as much as I thought it would. Worth a watch though, definitely.
My greatest achievement today was buying a pair of sunglasses and losing them within the hour. Grrr!