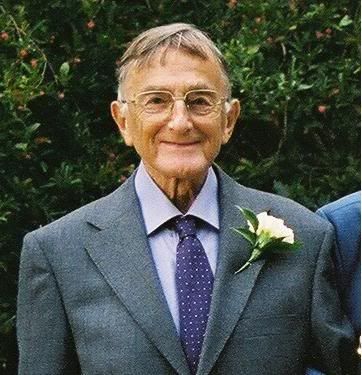 This is the man who taught me to surf.

He used to play toy cars with me when I was little. The only person I know who made a noise like "ning ning ning" instead of "brrrm brrrm" for cars.

He navigated a Mosquito in WWII (and if you don't know what that is, it's a tiny plane made entirely of wood)

He had an amazing passion for music, playing the organ, singing, performing in operas in his younger days. In his 60s/70s he rebuilt the organ at the baptist church in Combe Martin

He never stopped encouraging me to share and develop that passion, taking an interest in everything I did musically, gently pushing me further every time.

He was the first person to comment on how I looked on my wedding day.

He was, by all accounts, a great teacher and headmaster. I'd love to have been taught by him.

He had an inspirationally unending, quiet, gentle, strong love for his wife of 57 years.

This is the man who was known as Superman at his local hospital because he survived so much. And you knew when it was really bad because it was only then that he complained.

He played a mean game of canasta too.

Most importantly, he knew Jesus. He had a depth of faith and confidence in him that underpinned everything he did. More than music, family, canasta or anything else, this is what drove him.
This is Ivor Shaw, my Grandad. He died last week and I'm feeling inspired by him. I want to be a good wife to Dan in the same way he was a good husband to Grandma. I want to be a passionate, committed, inspirational teacher like he was. I want to still be surfing in my 60s and beyond and I want to have brown hair (no dye involved) when I'm 82. I want to face whatever life throws at me with the confidence and dignity that he did. And most of all, I want to be like Jesus like he was like Jesus.