i was here: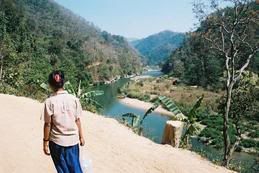 Beautiful isn't it? It's a refugee camp in Thailand, housing thousands of refugees from Burma. The camp is 7 miles from one side to the other, divided into 7 sections because it's too big to manage as one.
This time last year I was walking along this path with this girl and the rest of our team, on the way to the Anglican church in section 7 where we led a service and prayed. God was so definitely there.
A ceasefire started in Burma while we were there - the first in years and it was cause for great celebration. Since then, it has ended and fighting and harsh treatment of the Karen people and other minority groups continues in Burma, forcing more and more people across the border to live as refugees.
If you want to know more about this situation, or to find out what you can do to help, look at the
Christian Solidarity Worldwide
website for
the latest news
and
campaign information.