The day we'd been waiting for finally arrived - Sunday 19th June 2005, our first U2 gig!
It was gorgeously hot, which seemed like a good thing at first, but after 10 mins sitting in the blazing sunlight on the East Stand I think I felt it could've just been a little bit cloudier?
Support acts Idlewild and Ash were... OK. Nothing special to be honest. In part, I think that was due to poor sound engineering and the fact that, as
Pip
comments, daylight gigs just don't catch the same atmosphere as gigs in the dark. Still, a pint of Pimms, muchos water and even more sun cream helped them along and soon, it was time.
There's a great review of the gig, including set list, at
u2.com
so I won't bore you with it again. (I will, however, comment smugly that the press area in the West Stand was at a rubbish angle for taking photos - ironic as they were the only people who were allowed to take cameras into the stadium!)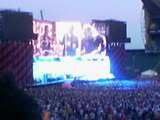 Fave bit for me (and any of you who know me won't be surprised) was the
Aung San Suu Kyi
bit. Bono spoke a bit about her, explaining that it was her 60th birthday and that she's been kept under house arrest for 16 years even though she's done nothing wrong other than being the democratically elected leader of Burma, a country whose military factions would rather do things their way. They dedicated a slow, ballady, Running to Stand Still to her, finishing with happy birthday (slightly cheesy but hey!) and then a chorus of Walk On. This was followed by the first six articles of the
United Nations Declaration of Human Rights
scrolled up the huge screen behind the stage, read out by a young asian woman.
All in all, an amazing experience. 70,000 people in one place, all singing the same song - a glimpse of heaven? Maybe. God was very definitely there.