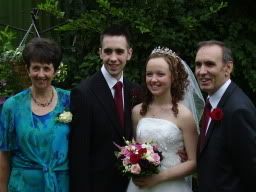 My little brother got married on Saturday!! It was a great day, perfect weather (at least, that's what the photographer said!), lots of people and lovely food... and Gav and Em both looked amazing.
They've been together over 8 years already so Em's been part of the family for ages but its nice to have it all signed, sealed and delivered!
Speech time was really emotional with some lovely things said by Em's Dad, Gav (who cried a lot!) and Other-Brother-Dan who was v funny!
Congratulations Gavin and Emma Owen!!