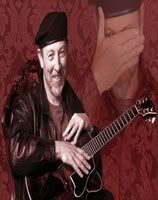 Saw this guy last night. Katherine had a pair of tickets and her friend dropped out so I got to go. I have to admit that until I googled him about an hour before the gig I had no idea who he was. For those of you who are still wondering, it's Richard Thompson. King of folk rock, sublime guitarist and founder member of the folk-rock pioneering band, the Fairport Convention.
If you found yourself at
his website
you'd see a bunch of free download tracks. You'd be forgiven, however, for listening to a few of them and thinking "Oh man, it's not so great." (or words to that effect!)I'm really not a fan of his singing voice or style at all so I set out to the gig last night a little apprehensive.
I was wrong. As far as I'm concerned, his voice is still take it or leave it. But his guitar playing is phenomenal. Finger picking so fast that you start to wonder where the other guitarist is!! Unpredictable chord patterns and sequences that take the music well away from the usual I-IV-V-I of folk ballads. And a fantastic bass player too - Danny Thompson (apparently no relation) is one of those people who can actually play the double bass without looking like they are trying to hide behind it, and his fingers are fast enough to keep up with Richard's guitar picking despite having strings several times the size to contend with.
To (mis)quote the Colonel... "It's finger-pickin' good"