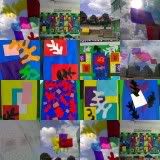 In 2 days time my final teaching practice will be over. The last 8 weeks have been fantastic - great kids,
good school
and really nice staff, including a fantastic class teacher. And some interesting stuff to teach too. The image here shows you some examples of the art work my class (aged between 7 and 9) have produced this half term, looking at the work of Henri Matisse, particularly his paper cut-out work. If you click on it, you can see a bigger version of the image.
The ones through which you can see the sky were made using coloured cellophane and a laminator. The rest are using coloured paper. I think they've done quite well.