The Red Hot Chilli Peppers played at Coventry's Ricoh Arena last Sunday. Seemed like the perfect opportunity for a cheapskate night out...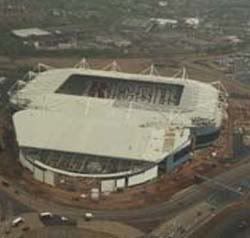 Dan and I sat for half an hour in the car on one of the side roads behind the arena, waiting for them to start playing. It got quite late so we decided to give up and go home. As we drove down the side, we could suddenly hear the screaming guitar solo. So we pulled into the Tesco's car park on the other side of the arena and sat and listened to a couple of tracks.
By The Way was recognisable. Don't ask me what they played after that. But then seeing as all RHCP tracks sound the same anyway it probably doesn't matter. The sound quality was as good as could be expected from the wrong side of the stadium wall.
And the whole experience was... err... about as exciting as this blog post. Hmm. Sorry!