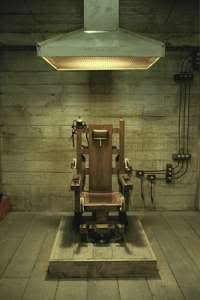 I've just finished reading The Green Mile by Stephen King. Wow! What a book. I've seen the film 1.5 times and loved it - you can't fail to be moved by it. But the book... oh it's so much better. I guess my reading of the book was influenced by the film - Paul Edgcombe was already Tom Hanks in my mind, etc. Even so, it's a compelling read and you get so involved in the characters.

Stephen King admitted that he intended the parallels between John Coffey and Jesus - a man who dies for something he didn't do, who has the power to heal and an amazing gift of discernment and who, through his death, gives life.

I think one of the things that struck me most was the emotions of Paul and Brutal and the other guards when they realise that they know beyond all doubt that John Coffey is innocent but that it's impossible to change anything and they will therefore have to execute him. A kind of Pontius Pilate moment I guess? It got me thinking about what it might've been like to be one of Jesus' disciples or followers around in Jerusalem at the time of his execution. That kinda helpless feeling, knowing his innocence but being totally unable to stop the process. The emotion of that is massive.

A great book, I'd definitely recommend reading it if you haven't already, whether you've seen the film or not.