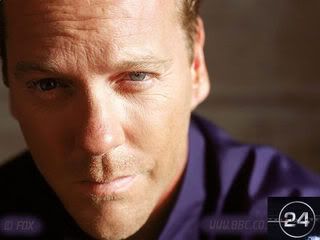 WARNING: Any involvement with this man will seriously take over your life!*
Back in September, Kim and Steve lent us
24 series one
on DVD. A few sleepless nights and many hours of tense viewing later we were hooked.
October half term couldn't come quick enough and we devoured
series 2
, knowing that in order to maintain sanity and for any chance of either of us not falling asleep at work we'd have to save the next series for the Christmas break.
Weeks passed, Christmas plays came and went until finally it was time.
Gav and Em
were the lenders this time. As soon as
series 3
hit the DVD tray we were consumed. Every spare 45 minutes became an episode opportunity. This time, most of the nail-biting hours were seen on my laptop in the smallest hours whilst staying at mum and dad's. No longer did we think of getting in from visiting someone and going to sleep - not a night went by without at least one episode.
We finished series 3 on Saturday morning just gone. As keen as we might be to start series 4, we're going to have to ration ourselves once again. February half term might be a possibility but seeing as we're hoping to be
somewhere else
it might have to wait even longer.
Be warned though. 24 is great but its totally engrossing. Be prepared as soon as you open the box to sleep less, eat less (OK, maybe not that), do less housework, go out less, talk less and, err, do everything else less for as long as it takes to reach the conclusion of whichever series you happen to be watching.
*OK, so I admit I actually mean "watching 24 will seriously take over your life." Not ever having had contact with Kiefer himself, I can't comment on any other sort of involvement. Please don't sue me!